Laurel County, KY - Sheriff John Root is reporting that Deputy Kyle Gray is investigating the theft and vandalism of a utility truck belonging to East Bernstadt Independent School which occurred on Friday night February 5, 2016 at approximately 7:00 PM.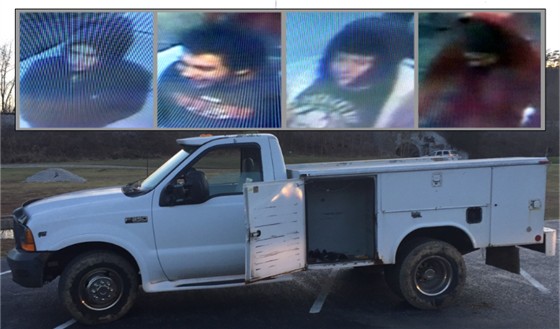 Several male subjects apparently entered school property, breaking into a storage building and also taking a utility truck from the school.
The utility truck was recovered by Sheriff's deputies on Bullock Road approximately 2 miles from where the theft had occurred.
When the truck was recovered, tools in the truck had been removed. Substantial damage had been done to the truck and it appeared to have been driven off the road prior to being abandoned in a parking lot off Bullock Road near London.
Photo surveillance from the school shows several male subjects at the school at the time of the theft.
If anyone has any information regarding the identity of any of the suspects in the photos, they are asked to contact the Laurel County Sheriff's office at 606-864-6600 or 606-878-7000. Information will be strictly confidential.
Investigation is continuing by Deputy Kyle Gray.