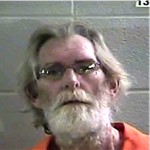 Laurel County, KY - Sheriff John Root is reporting that Deputy Kyle Gray along with Deputy Jamie Grimes and Sgt. Larry Parrott arrested Ryland Hoke, age 59, Little Pittsburgh Rd., London, on Monday night, February 8, 2016, at approximately 9:15 PM.
The arrest occurred off Little Pittsburgh Road, approximately 2 miles north of London after deputies responded to a dispute between father and daughter allegedly fighting over the daughter's EBT card.
When deputies arrived at the scene, they learned there had been an argument between this subject and his daughter concerning her EBT card, and that he would not return it to her.
Allegedly, she reported that he pulled a small kitchen knife, pulled her hair, and forced her to the floor of the residence. Ryland Hoke was charged with assault – fourth degree – domestic violence and knowingly fraudulently using ID card or electronic code for benefits.
Ryland Hoke was lodged in the Laurel County Detention Center. Photo attached is courtesy of the Laurel County Detention Center.