Laurel County, KY - Sheriff John Root is reporting that Sgt. Robbie Grimes investigated a single vehicle non-injury weather related traffic crash which occurred on KY 490 approximately 5 miles north of London on Tuesday night, February 9, 2016, at approximately 7:15 PM.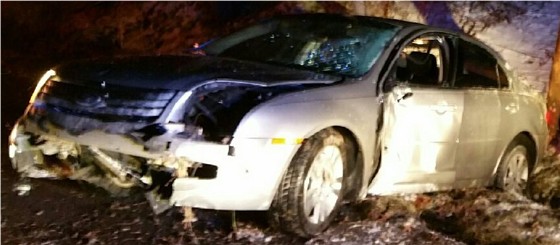 Sgt. Grimes reports that apparently a silver colored Ford Fusion was traveling northbound on Ky 490 and entered a right-hand curve apparently hitting a patch of ice on the roadway causing him to lose control of the vehicle and hit a utility pole.
The driver was identified as Hayden Riley, age 20, of Rocky Branch Rd., London – no injuries reported. Assisting at the scene of the crash was East Bernstadt Volunteer Fire department and Ambulance Inc. of Laurel County.
Photo of crash site provided by Sgt. Grimes.