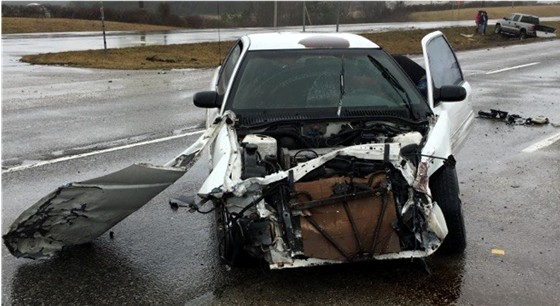 Laurel County, KY - Sheriff John Root is reporting that Deputy Rick Cloyd is investigating a two vehicle injury traffic crash which occurred on KY 80, approximately 3 miles west of London at the intersection of Sinking Creek Road (Ky 1535), on Sunday afternoon February 21, 2016 at approximately 2:05 P.M.
The investigating deputy reports that apparently a white colored Pontiac Grand Am allegedly following a van pulled out from Sinking Creek Road in front of the path of a brown colored GMC pickup that was westbound on KY 80 and collided with it.
The white colored Pontiac Grand Am was driven by Melanie Briggs age 28 of Flat Gap Road, Berea – no injuries reported.
The brown colored GMC pickup was driven by Mark Irvin age 47 of Kentucky Hollow Road, London – injured and transported by private vehicle to St. Joseph Hospital London.
Photo of crash site provided by Deputy Rick Cloyd.