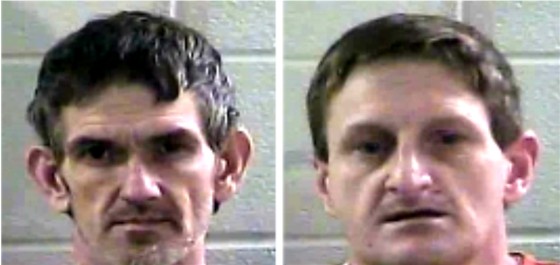 Laurel County, KY - Sheriff John Root is reporting that two additional subjects were arrested on Laurel Lake Road North, approximately 7 miles west of London on Thursday morning February 25, 2016 at approximately 10:44 AM.
The arrests were part of a continuing investigation in that area that originated on February 19 after Sheriff John Root received a complaint concerning illegal drug activity in that area and assigned his special response unit to conduct surveillance in that area.
Information was developed and a search warrant was obtained and three individuals were arrested earlier, and crystal methamphetamine a large amount of marijuana, U.S. currency along with drug paraphernalia were seized by Sheriff's deputies.
The two individuals arrested on Thursday February 25, 2016 were identified as:
Christopher Cornett age 43 of Laurel Lake Road North, London - Charged on a Laurel County warrant of arrest obtained by the Sheriff's office charging conspiracy to traffic in a controlled substance – first-degree – second offense, possession of a firearm by a convicted felon, trafficking in marijuana – first offense, and persistent felony offender I. During a search warrant being executed on this subject's residence earlier, deputies found crystal methamphetamine, marijuana, and a firearm.
Brian Litteral age 38 of Prewitt Road, Corbin charged with possession of a controlled substance – first-degree – second offense, and possession of a controlled substance – third-degree – This subject was found in possession of morphine and Xanax pills.

A total of 5 persons have been arrested in the Laurel Lake Road North area as investigations continue. Investigations into illegal drug activity will be continuing by the Laurel County Sheriff's office.

Assisting on the investigation and arrests Thursday were:

Sheriff John Root, Laurel County Sheriff's office Special Response Unit headed by Major Rodney Van Zant with team members: Detective Kevin Berry, Detective Jason Back, and Deputy John Inman.

Also assisting were:

Captain Chuck Johnson, Lieut. Greg Poynter, Sgt. Brett Reeves, Deputy Shawn Boroviak, Deputy Craig Sutton, Deputy Gilbert Acciardo, Cpl. Jack Caudill, and Bailiff Robert Reed.

The investigation will be continuing by Detective Jason Back.

Photos of accused attached are courtesy of the Laurel County Detention Center.

Related article:

Complaint concerning illegal drug activity in Laurel County leads to three arrests and numerous charges