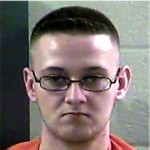 Laurel County, KY - Sheriff John Root is reporting that Deputy Kyle Gray arrested John Dalton Carroll, age 21, of Cumberland Ave. apartments, Williamsburg, on Sunday evening, February 28, 2016, at approximately 4:47 PM.
The arrest occurred in the parking lot at Walmart near Corbin in southern Laurel County after Deputy Gray received a complaint of a male subject that appeared to be intoxicated staggering around.
When Deputy Gray arrived at the scene, he located this subject there and conducted an investigation determining that this subject was under the influence. This subject also had two of his nieces- ages eight and nine with him.
John Dalton Carroll was charged with public intoxication – controlled substances and was lodged in the Laurel County Detention Center.
Photo attached is courtesy of the Laurel County Detention Center.