Staff Report - March 7, 2016
Clay County, KY - Students in the Health Science program at the Clay County Area Technology Center (ATC) are learning how to become professional healthcare service providers under the leadership of Mrs. Tammy Jones, MSN, RN.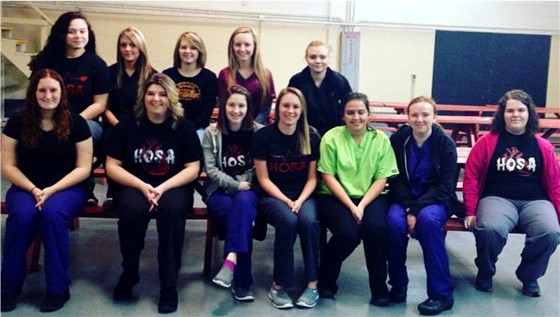 Health Science students preparing for clinical experiences at the Laurel Creek Nursing Home:
Amber Stewart, Kashia Jackson, Dakota Sierra Stewart, Shahawna Marie Allen, Desiree N. Jacob Lunsford, AnnaMaria Rose Hubbard, Kasi Hubbard, Megan Gibson, Jeri Melissa Sizemore, Amber Nichole Smallwood and Hannah Hinkle
at Clay County Area Technology Center
The students who are completing the program take courses in Principles of Health Science, Emergency Procedures to include CPR and First Aid, Medical Terminology, and are now completing nurse aide practicum experiences at the Laurel Creek Nursing Home to prepare for their certification exam to become a Certified Nurse Aide.
The students in the Health Science program participate in community service and leadership development programs under the auspices of the Health Occupation Students of America (HOSA) to include soda can tab collections for the Ronald McDonald House to help families and children in need, regional and state skills competitions and conferences, and service projects such their drug free community campaign. Students in the program are becoming college and career ready and will be prepared to pursue their career paths in Nursing, Medicine, Pharmacy, Physical Therapy, Psychology, and many more professional programs.
The Clay County ATC operates various Career & Technical Education programs such as Automotive Collision Repair, Automotive Technology, Construction Technology, Computer Technology, Welding Technology, and Health Science. For more information about the programs available at the ATC please contact the high school counselor at Clay County High School or contact the staff at the Area Technology Center.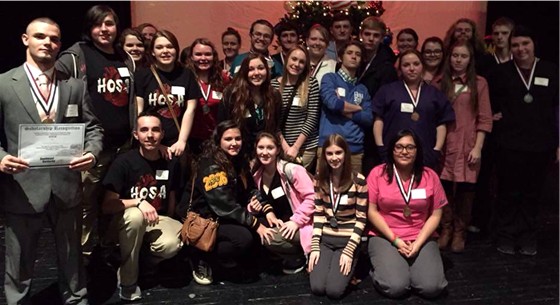 Health Science students with earned awards at the HOSA Regional Skills Competition

Health Science students leading the drug free community service campaign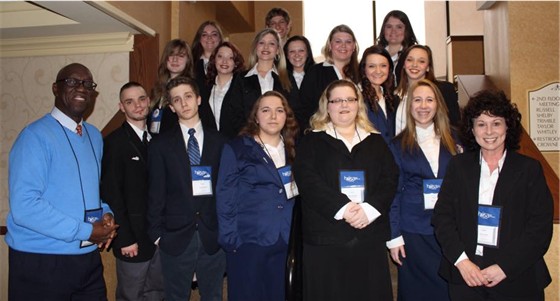 Health Science students with Sam Wansley, Decay Goins, Whitney Ruth, Cameron Asher, Kayla Roberts, Rebecca Lawson, Brittany Baker, Amy An Mike Burns, Amber Bowling, Hannah Murray, Amber Gilliam Morris, Vontella Deann Asher, Keresia N Daniel and Megan Goins at Crowne Plaza Louisville Airport Expo Center for the state HOSA conference.