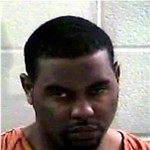 Laurel County, KY - Sheriff John Root is reporting that Deputy John Inman along with Deputy Shawn Boroviak arrested Christopher Clark, age 30, of Belcher Ln., Baxter, KY, on Monday morning, March 7, 2016, at approximately 9:03 AM.
The arrest occurred off South Laurel Rd., approximately 4 miles south of London after deputies were dispatched to a complaint that a male subject was in violation of an emergency protection order.
When deputies arrived at the scene, they located this subject and following an investigation charged Christopher Clark with violation of a Kentucky EPO/DVO.
This subject was lodged in the Laurel County Detention Center. Photo attached is courtesy of the Laurel County Detention Center.