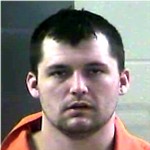 Laurel County, KY - Sheriff John Root is reporting that: Deputy Kyle Gray arrested Jonathon Turner age, 24, of E. Pittsburgh Church Rd., London, on Monday afternoon, March 7, 2016, at approximately 4:25 PM.
The arrest occurred off Mullins Road, 8 miles south of London after this subject was charged on three Laurel County bench warrants of arrest charging failure to appear in court regarding 2 counts of operating on suspended or revoked operators license; failure of owner to maintain required insurance first offense; possession of drug paraphernalia and numerous other traffic violations.
This subject was lodged in the Laurel County Detention Center. Photo attached is courtesy of the Laurel County Detention Center.