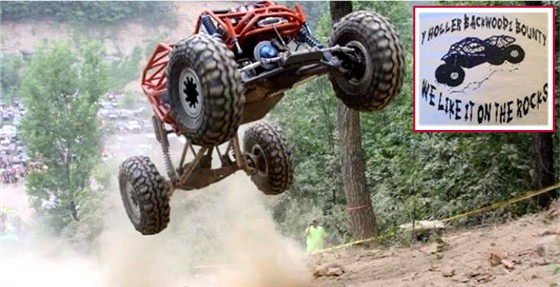 CCN staff report
Manchester, KY - The hills of Clay County were lively and loud with the cheers and the sounds of nearly 3,000 spectators, vendors, and bouncers on Saturday, March 26, 2016.
The Y Holler in Manchester, Kentucky played host to the Backwoodz Bounty where crowds of off-road enthusiasts, ATV riders, sport bouncers and racers from east KY, TN, WV and OH, all came together on a beautiful spring Saturday to enjoy races and win big prize money.
Spectators watched with bated breath as bouncers took their turns racing up the steep winding mountainsides of the Y Holler as they maneuvered rocks, slipping dirt, and deep dips in the rough terrain trying to make the best qualifying time.
For video of the first climb of the day Click HERE video by Beckie Roberts.
Most bouncers traversed the mountainside without incident, but several experienced the challenges of the terrain with a turnover of their ATV and needed the assistance of the Caterpillar excavators to lift them out of the steep pits or to turn them back over into an upright and operable position.
Families consisting of pa

rents, children, and grandparents remarked without exception how they were enjoying this off-road adventure spectacle. 
Many of those interviewed said it was their first bounty event and their first visit to Clay County, but were already waiting for event organizers to announce the next event date.
Betty Jo Davidson, Chair of the Clay County Trail Town Committee, indicated the extraordinary large turnout would help to assure that this first time event would continue into the future.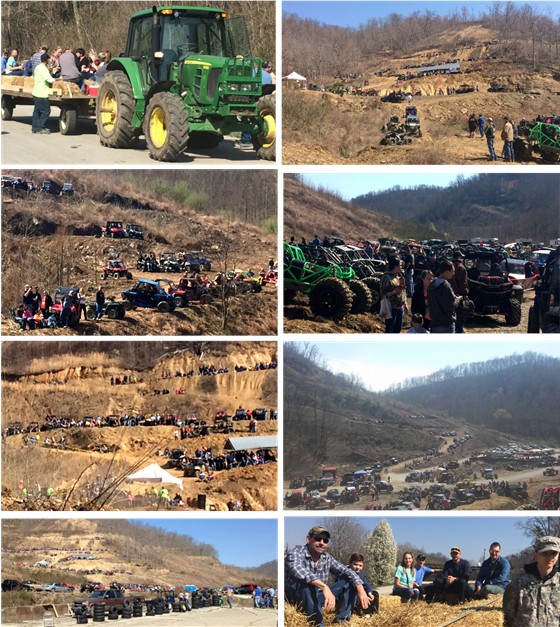 Backwoodz Bounty scenes from Y Holler in Manchester, Kentucky 
Visitors were provided transportation service via John Deere tractor after being greeted by Clay County High School JROTC Cadets who helped people with parking and general directions.

Mayor James Ed Garrison, City of Manchester, was busy speaking with visitors and welcoming people to the event. He spoke of the need for mountain communities to take a concerted look at their natural environment as a tremendous asset for tourism development given the popularity of adventure sports and the declining coal industry.
"We have mountains especially made with trails for hiking, horseback riding, and ATV's, rivers that are teaming with game fish such as trophy-size muskie and that are navigable for kayaking, as well as outdoor sport hunting with tremendous population of turkey and deer in Clay County." said Mayor Garrison.
The Y Holler site was formerly utilized as a coal processing plant and distribution center for coal products that were loaded onto train and truck for shipping to markets outside the county when coal was a booming industry in Clay County.
ClayCoNews (CCN) is committed to promoting economic development, youth development, and community development activities. CCN provides a digital news resource for the community 24/7/365 with daily reports on local, state, and national news that is informative, educational, and inspirational.
Like ClayCoNews on Facebook and bookmark it on your favorite computer device for quick access to breaking news reports and feature stories.