Laurel County, KY - Sheriff John Root is reporting that Deputy Tommy Houston along with Deputy Shannon Jones and Bailiff Brandon McCoy arrested two individuals at Pilot service station off West Cumberland Gap Pkwy., early Sunday morning, April 3, 2016, at approximately 3:03 AM.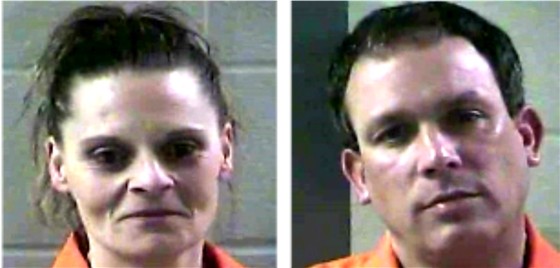 When deputies arrived at the scene, they observed a suspect female subject get into a black colored Honda Civic, start the engine, and put the vehicle in gear.
Deputies conducted a traffic stop and an investigation detecting a strong odor of alcoholic beverages emitting from this subject. This subject was determined to be under the influence. Deputies also found open alcoholic beverage containers in the vehicle.
Arrested was Stacy Cunnagin, age 43, of Fall's Street, Corbin, charged with operating a motor vehicle under the influence; failure to wear seatbelts; possession of open alcoholic beverage container in motor vehicle prohibited; and other traffic violations.
In addition, the subject was wanted on a Laurel County warrant of arrest charging theft by unlawful taking and criminal trespassing – second-degree. Allegedly this subject went into Walmart Supercenter and concealed jewelry and clothing and left the store without paying – value of the theft was $143.10. The subject had previously been caught shoplifting at Walmart and was banned from Walmart property.
Also arrested at the Pilot Service Station was a male subject who had allegedly shoplifted items inside the store. After reviewing video inside the store, deputies arrested Christopher Scott Ledington, age 45, of Wildwood Dr., Corbin, charged with theft by unlawful taking.
The two individuals were lodged in the Laurel County Detention Center. Photos attached are courtesy of the Laurel County Detention Center.