Laurel County, KY - Sheriff John Root is reporting that Sgt. Larry Parrott along with Deputy Shannon Jones arrested a male subject of Hideaway Rd., London, early Friday morning, April 22, 2016, at approximately 2:51 A.M.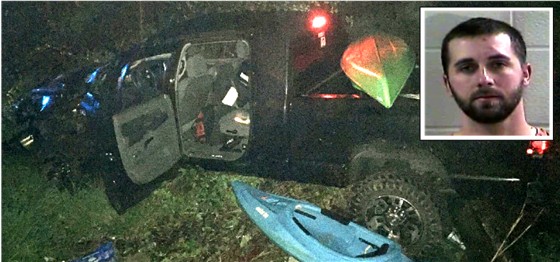 Arrested was Nicholas Woodard, age 25.  The arrest occurred off Barbourville Road, approximately 1 mile south of London after deputies were dispatched to investigate a traffic crash on Highway 229 there.
When deputies arrived at the scene and conducted an investigation, they learned that this subject had apparently been involved in a traffic crash and had allegedly been picked up by a passerby and taken to Hideaway Road.
The passerby then notified 911 to report the accident and described the driver that he had picked up. When deputies arrived at the scene, they located the driver walking back toward the traffic crash. Deputies conducted an investigation where they were repeatedly told by this subject that his vehicle had been stolen.
An investigation on this subject was conducted and he was determined to be under the influence. Upon arrest, this subject became combative with deputies, cursing deputies, and had to be physically restrained to place him in the police car.
At St. Joseph Hospital in London where the subject was taken to complete the investigation, this subject continued to curse deputies and create a disturbance in the presence of employees and other patients.
Deputies noted this subject had a mark on his fore head and cuts on his shins apparently from the traffic crash.
Nicholas Woodard was charged with operating a motor vehicle under the influence – first offense; leaving the scene of an accident; resisting arrest; disorderly conduct – second degree; and falsely reporting an incident.
This subject was lodged in the Laurel County Detention Center.
Inset photo of accused is courtesy of the Laurel County Detention Center.
Photo of crash site provided by Sgt. Larry Parrott.