Whitley County, KY - The Whitley County Sheriff's Department is reporting that at around 11:22 A.M. on Thursday, April 21, 2016, Deputy Cody Harrell responded to a wreck on US Hwy. 25, approximately 1.3 miles South of Corbin. According to initial reports, two vehicles had collided head-on, and at least one person was entrapped.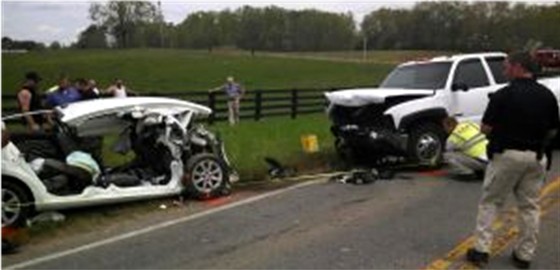 Members of the Oak Grove and Woodbine fire departments responded to extricate two men from a vehicle.
At this time, the investigation suggests that a 2014 Kia sedan was travelling North when it veered into the southbound lane and struck a 2001 Chevrolet pickup.
The passenger of the sedan, 21-year-old Joshua Vanover, was treated at the scene and airlifted to the University of Kentucky Medical Center. The driver over the truck, Gary Amburgey, 56, of Mount Sterling, Kentucky, was transported by ambulance for treatment at Baptist Health Corbin.
The driver of the Kia sedan, Willard Brown, Jr., 36, of Gray, Kentucky, passed away during medical transport.
Whitley County Coroner Andy Croley responded. Dep. Harrell was assisted at the wreck scene by Dep. Joe Prewitt and Kentucky State Police Trooper Dave Lassiter.
The sheriff's department asks that you keep the family and friends of all involved in your thoughts and prayers.
(Photo courtesy of The News Journal)