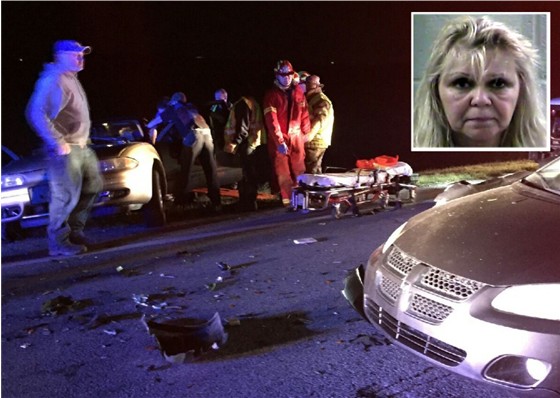 Laurel County, KY - Sheriff John Root is reporting that: Sgt. Larry Parrott arrested Sondra Miller 64 of Marisa Court, Corbin early Saturday morning April 23, 2016 at approximately 1:33 AM.
The arrest occurred on South Laurel Rd., approximately 2 miles south of London after Sgt. Parrott, who was on a traffic stop on South Highway 25 near Court Rd., 2 miles south of London, overheard a complaint being dispatched by Laurel 911 that a gold colored Oldsmobile was approaching him traveling northbound toward London and the driver appeared to be intoxicated.
Sgt. Parrott using his flashlight tried to flag the vehicle down, however the vehicle swerved towards him causing him to have to run to get out of the way to avoid being struck.
Sgt. Parrott got into his police cruiser initiating his emergency equipment in an attempt to get the vehicle to stop, however the vehicle failed to stop continuing northbound and was swerving into the southbound lane where it struck a southbound vehicle head on injuring the other driver.
Drivers of both vehicles were transported to St. Joseph Hospital London for treatment of injuries. Sgt. Parrott continued his investigation at St. Joseph London.
After the driver of the gold colored Oldsmobile Alero which had caused the accident was released from the hospital, Sgt. Parrott arrested and identified her as: Sondra Miller age 64 Of Marisa Court, Corbin - Charging her with operating a motor vehicle under the influence – first offense; wanton endangerment – second degree; wanton endangerment – second-degree police officer is the victim; reckless driving; failure of owner to maintain required insurance – first offense; and numerous other traffic violations and lodged her in the Laurel County Detention Center. She stated she had taken Gabbapentin, Syraquil, and drank beer.
The driver of the other vehicle, a gray colored Dodge Stratus was identified as: Hazel Smith age 27 of London who was 4 months pregnant - Transported by private vehicle to St. Joseph Hospital London for treatment of possible injuries.
Assisting at the scene was Laurel Sheriff's Deputy Shannon Jones, Ambulance Inc. of Laurel County, Laurel County Volunteer Fire Department, London Laurel Rescue Squad, and London City Police.
Inset photo of the accused Sondra Miller courtesy of the Laurel County Detention Center.
Photo of crash site provided by Sgt. Parrott.