Laurel County, KY - Sheriff John Root is reporting that: Deputy Josh Scott along with Deputy John Inman, Deputy Shawn Boroviak, and Sgt. Brett Reeves were dispatched to a domestic violence complaint off Topton Road, approximately 8 miles south of London on Monday afternoon April 25, 2016 at approximately 1:50 PM.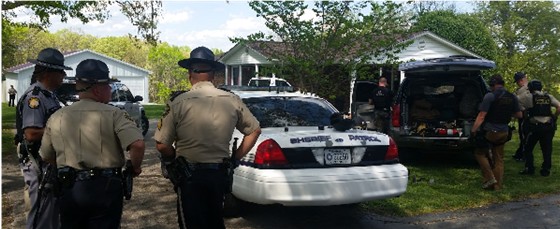 When deputies arrived at the scene and secured the scene and conducted an investigation they learned that apparently a male subject had been involved in a confrontation with his girlfriend and had poured gas on a vehicle and the female subject fled down a lane on foot to a residence at the end of the lane.
The male subject allegedly drove the white colored pickup truck down to the residence to continue the confrontation threatening that he would get a gun inside the residence and shoot at or cause law enforcement to shoot at him. The female subject fled out the backdoor to a nearby residence.
Deputies had reason to believe that the male subject was still in the residence and they notified the Sheriff's office Special Response Unit (SRU) -- requesting assistance at the scene to conduct a search of the residence. (At least one residence was nearby causing a safety concern for them and responding deputies.)
When SRU arrived at the scene, SRU along with patrol deputies continued to maintain surveillance of the residence. SRU made entry to the residence and determined that the suspect was not inside.
An investigation is continuing by the Sheriff's office. Deputies assisting at the scene in addition to the original responding deputies included the Laurel County Sheriff's office Special Response Unit led by Maj. Rodney Van Zant – team members included Deputy John Inman, Detective Kevin Berry, Detective Jason Back, Deputy Josh Scott, Detective James Sizemore,Capt. Chuck Johnson, Lieut. Greg Poynter, Deputy Brandon Broughton, Cpl. Jack Caudill, Bailiff Robert Reed, and Deputy Gilbert Acciardo.
Also assisting at the scene was Trooper Jack Riley, Constable Chris Webb, Ambulance Inc. of Laurel County, and a representative from Jackson Energy (RECC).
Photos of the scene provided by Deputy Gilbert Acciardo.