CCN Staff Report
Madison, GA - A former student at Horse Creek Elementary, Clay County High School and Eastern Kentucky University graduate is providing extraordinary leadership in professional nursing and patient care at a Georgia hospital.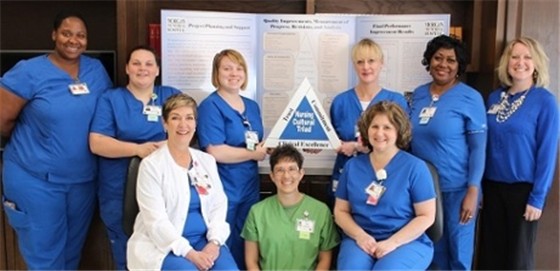 Susan Curry Jackson, formerly of Clay County, Kentucky is the Nurse Manager at Morgan Memorial Hospital (MMH) in Madison, Georgia.
Jackson, who is an integral part of a dedicated team of nursing professionals at MMH, that is receiving high praise for helping turn a hospital in decline into an award winning healthcare facility that's gaining national attention.
Susan Curry Jackson is providing the leadership necessary to make a real difference in the everyday lives of patients.
Her passion for helping others comes from her upbringing in Clay County, Kentucky where neighbors help neighbors and everyone in the neighborhood, living on the creek, or living up the holler knows when someone is in need of assistance and offers help.
Susan is pictured right on front row in team photo.
The following link will bring the many of you that know Susan and others up to date on this dedicated healthcare professional.
How One Hospital Is Creating a Culture of Change
Congratulations Susan Curry Jackson! We are very proud of your personal and professional accomplishments.