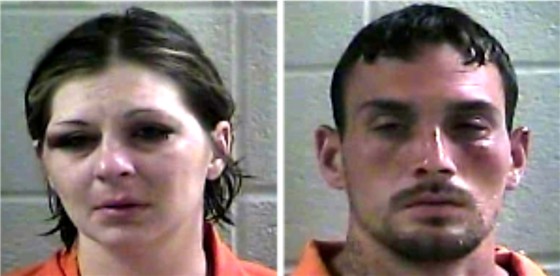 Laurel County, KY - Sheriff John Root is reporting that: Sgt. Larry Parrott along with Deputy Shannon Jones arrested Melissa Patrick age 31 of Dolly Miller Rd., East Bernstadt early Saturday morning May 14, 2016 at approximately 4:30 PM.
The arrest occurred on Dolly Miller Road, approximately 8 miles north of London after deputies were dispatched to investigate a complaint that this subject was having a party at her home and a fight broke out where one person was seriously injured. Melissa Patrick allegedly got into a blue colored Dodge Dakota pickup that was in the yard there and tried to run the injured man down, however struck a tree.
When deputies arrived at the scene this subject tried to run and hide and was found in a locked bedroom in her home. When deputies made contact with this individual, she charged at deputies in a threatening manner and following a short scuffle where she struck Sgt. Parrott in the chest with her elbow, this subject was restrained but continued to fight and cause a disturbance even after being placed in the patrol car.This subject continued to bang her head on the protective screen in the police car and curse and threatened to kill Sgt. Parrott and other deputies on the scene.
Melissa Patrick was charged with operating a motor vehicle under the influence – first offense; resisting arrest; assault – fourth degree; disorderly conduct – second-degree; menacing; and wanton endangerment – second-degree.
One other individual, Jonathan Doney age 28 of Tom Cat Trail, London was also arrested at the scene during this investigation:
In addition, while in custody at St. Joseph Hospital London being checked out for possible injuries from the earlier fight on Dolly Miller Road, this subject made several threats on Sgt. Parrott's life and the lives of his family and stated several times that when he got out of jail he would hunt Sgt. Parrott down and kill him – he further stated he had friends in high places and judges in his pocket and would get out of all the charges against him.
Jonathan Doney was charged with terroristic threatening – third-degree; alcohol intoxication in a public place; resisting arrest; assault – fourth degree; and menacing.
Both individuals were lodged in the Laurel County Detention Center.
Photos courtesy of Laurel County Detention Center.