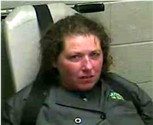 Whitley County, KY - Around 9 p.m. May 21, 2016, Sergeant Kirk Mays responded to Kersey Road after Whitley County E911 received a complaint that in the roadway was a vehicle, from which loud music was playing.
Upon arrival, Sgt. Mays observed a Volkswagen in the road, occupied by one female driver. Light smoke was coming from under the hood, and the engine sounded as if the gas pedal was fully compressed.
Behind the wheel, Sgt. Mays found a female who appeared to be passed out. When she became alert, she turned combative and the vehicle started rolling towards Sgt. Mays's cruiser. Deputy James Fox responded to assist while Sgt. Mays attempted to control the Volkswagen. Dep. Jonas Saunders also responded.
The driver, Hope Singleton, 37, of Keavy, had to be removed from the vehicle and resisted arrest. There was a smell of alcoholic beverage about the vehicle. In the floorboard was a bottle of liquor. Singleton refused to perform field sobriety tests. She kicked at one of the cruiser's rear windows.
Upon arrival at the Whitley County Detention Center, Singleton had to be placed in a restraint chair. While she was in a holding area, she spit on a detention center employee.
Singleton is charged with DUI, third-degree assault, resisting arrest, disorderly conduct, possession of an open alcoholic beverage container, operating a motor vehicle on a suspended license, driving without insurance and expired vehicle registration.
Photo courtesy of the Whitley County Detention Center