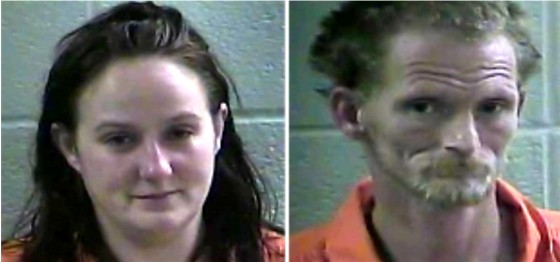 Laurel County, KY - Sheriff John Root is reporting that: Deputy Kyle Gray along with Deputy Brandon Broughton and Deputy Rick Cloyd were dispatched to a fight in progress on Hershey Lane, approximately 3 miles north of London on Sunday night May 22, 2016 at approximately 9:30 PM.
Upon arrival deputies found three subjects that were fighting, cursing, and screaming and creating a disturbance there.
Deputies conducted an investigation and found the residence had damage with kitchen knives laying in the yard along with glass from windows in the residence and kitchen plates broken in the house and outside the residence.
Deputies arrested Debra Vaughn age 35 Of Hershey Ln., London charging her with assault – fourth degree – domestic violence; public intoxication – controlled substances; and disorderly conduct – second degree. This subject admitted to fighting and cutting her mother on the arm. This subject's mother was transported to St. Joseph Hospital London for treatment.
Also arrested was Brian Keith Lewis age 37 Of Somerset Rd., London. Allegedly this subject drove a black Chevrolet to Hershey Lane to pick up a subject that was involved in the domestic violence fight. Deputies conducted an investigation on this driver and determined that this subject was under the influence – this subject admitted to taking neurotin that belonged to someone else.
Brian Keith Lewis was charged with operating a motor vehicle under the influence – second offense and other traffic violations. Both individuals were lodged in the Laurel County detention Center. Photos attached are courtesy of the Laurel County detention Center.