(London, KY) - On Monday May 23rd 2016 around 10:30 P.M. Officer Mike Hamblin with KSP-Vehicle Enforcement received a complaint on a 1998 Ford Ranger that had just been involved in a robbery in Rockcastle County.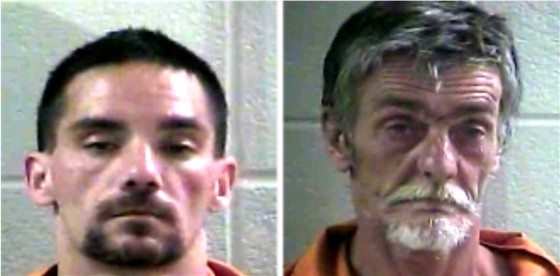 Officer Hamblin located the vehicle on the I-75 exit 49 ramp near the intersection of KY909 at which time the vehicle took off at a high rate of speed. Officer Hamblin pursued the vehicle back onto I-75 south for several miles. Upon running the vehicles license plate Hamblin learned that the vehicle was reported stolen by New Boston Police Department in Ohio.
The pursuit continued for nearly seven miles and finally ended near the 42 mile marker when the operator, 36 year old Joe R. Starnes of McDurmont, Ohio, finally pulled over for Officers.
In the vehicle, officers located items that were taken from the robbery as well as several open alcoholic beverages.
Starnes was arrested and lodged in the Laurel County Detention Center on charges of Speeding, Disregarding Stop Sign, Failure to Wear Seat Belt, No Operators License, Possession of Open Alcoholic Beverage, DUI, Fleeing or Evading Police 1st, Receiving Stolen Property U/$500 and Receiving Stolen Property U/$10,000.
Also arrested on scene was a passenger, 48 year old Kelvie L. Riffe of McDermott, Ohio, on charges of Alcohol Intoxication and Possession of Open Alcoholic Beverages.
Assisting on Scene: Vehicle Enforcement Officer Rob Mitchell, Kentucky State Police. Officer Mike Hamblin continues the investigation.
Photos courtesy of the Laurel County Detention Center.