FRANKFORT, Ky. (May 24, 2016) - Gov. Matt Bevin joined Justice Cabinet Secretary John Tilley and Kentucky State Police Commissioner Rick Sanders to remember fallen KSP troopers and officers at a memorial service and wreath-laying ceremony held at the KSP Training Academy in Frankfort.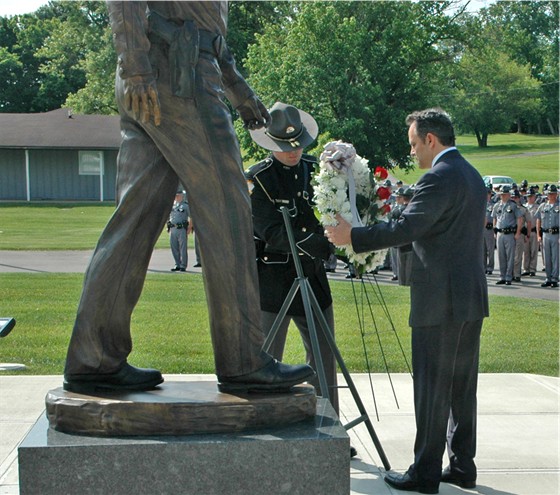 Governor Bevin lays a wreath at 'The Trooper' statue on the campus of the Kentucky State Police Academy in remembrance of
the 30 fallen troopers and officers of the Kentucky State Police.
Gov. Bevin praised the service and sacrifice of the 30 KSP troopers and officers who have died in the line of duty since the agency was established in 1948.
"Each one represents a story of service to others, risks accepted and actions taken so that others would be safe," Gov. Bevin said. "They did not seek great rewards or easy lifestyles. They put on a uniform, devoting themselves to the timeless values upon which society is based - respect, law, justice, peace and the value of human life. Their devotion was such that they gave their lives to protect these values.
"The protection of our citizens is not just a job, it is a calling," Gov. Bevin explained. "The troopers and officers we are honoring answered that call willingly. Their lives made a positive difference for the citizens of Kentucky. We stand in awe of their courage and are grateful for their service. Their extraordinary sacrifice leaves a legacy that we must all strive to preserve. May we always honor them, embrace their memory and be ever faithful to the principles they stood for."
Sec. Tilley thanked those who dedicate their lives to protecting the Commonwealth - and their families - for the daily sacrifices they make that often go unrecognized until a tragedy takes place.
"Too often we don't say thank you for the very thing that makes law enforcement great - that these men and women get up every day, put on the uniform and show up, just in case we need them," Tilley said.
KSP Commissioner Rick Sanders reflected on his recent trip to Washington, DC for 'Police Week' events, where three KSP trooper names were added to the National Police Memorial Wall.
"The many moving ceremonies held during Police Week reminded me that no matter what color the uniform may be, there is a special kinship among all fallen officer families. A bond that many here today intimately understand," said Sanders.
"As I stand here in front of so many of our families, I can assure you that these fallen officers will not be forgotten," added Sanders. "This agency will always remember their honor, their courage and their sacrifice."
Thirty Kentucky State Police troopers and officers have died in the line of duty since the agency was established in 1948. They include:
Trooper Harold J. Toll: November 14, 1948
Trooper Robert R. Miller: February 14, 1951
Trooper Lee T. Huffman: May 19, 1953
Trooper Herbert C. Bush: October 11, 1958
Trooper William E. Tevis: May 26, 1963
Trooper Elmer Mobely Jr.: May 28, 1964
Trooper Cecil W. Uzzle: May 28, 1964
Trooper Delano G. Powell: July 8, 1965
Trooper Mack E. Brady: November 9, 1966
Trooper William Barrett: December 19, 1971
Trooper James McNeely: April 8, 1972
KSP Water Patrol Officer David Childs, April, 8, 1972
Trooper Walter O. Thurtell: September 29, 1972
Trooper Joe Ward Jr.: April 23, 1973
Lieutenant William C. Smith: April 26, 1973
Trooper John Hutchinson: June 4, 1975
Trooper Bobby McCoun: September 1, 1975
Trooper William Pickard: January 21, 1976
Lieutenant Willis Martin: April 26, 1977
Trooper Clinton Cunningham: February 11, 1979
Trooper Edward Harris: November 7, 1979
Trooper Jerome S. Clifton: October 1, 1980
Detective Darrell V. Phelps: August 7, 1981
Trooper Johnny M. Edrington: December 21, 1988
Trooper Johnny G. Adkins: November 24, 1995
CVE Officer Jason Cammack: April 23, 2000
Trooper Jonathan K. Leonard: December 19, 2006
Trooper Anson B. Tribby: January 22, 2013
Trooper Eric K. Chrisman: June 23, 2015
Trooper Joseph C. Ponder: September 13, 2015
Additional photos of the ceremony are available on the KSP Flickr page (https://flic.kr/s/aHskxcWvAj)