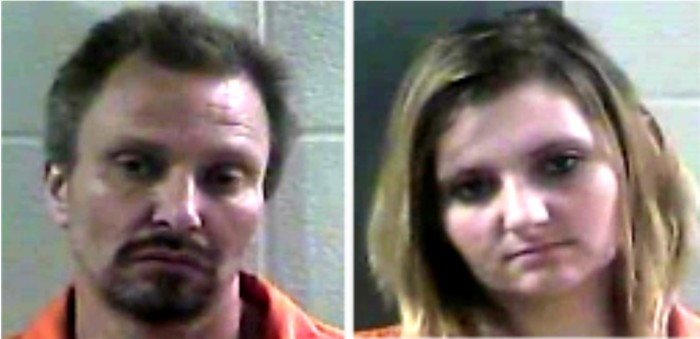 LONDON KY—On Saturday, July 9th London Police received a vehicle break-in complaint at Sourcecorp in the London Shopping Center. Through investigation, two were arrested on a slew of charges involving meth and theft.
Upon the arrival of officers, the victim reported that someone busted the passenger side window of her vehicle while she was at work and several items inside were missing. The value of the items missing amounted to approximately $885. Officers received video footage from the Sourcecorp parking lot and determined that Teddy Kirby, 48, of Hamilton, Ohio was searching through unlocked vehicles in the parking lot and drove away in a gray Chevrolet Silverado.
Hours later, officers received a second theft complaint about a purse stolen from a vehicle at Circle K on South US 25. The victim stated that the value of items stolen amounted to approximately $100. Through viewing security footage at the gas station, officers recognized Kirby's vehicle in the parking lot.
Police located Kirby's vehicle on KY 192 turning into the Shell Gas Station and initiated a traffic stop. The passenger within Kirby's vehicle was Tabitha N. Hooker, 26, of East Bernstadt. She stated that she was only in Kirby's vehicle during the Circle K theft. While conversing with Hooker, officers noticed several purses in plain view located in the back seat of the truck, two of which belonged to the victims who reported them missing earlier that day. Also within the truck was a cell phone that was reported as stolen.
Through searching Kirby's truck, methamphetamine was located within the center console of the truck. Within Hooker's purse more methamphetamine was discovered with a digital scale, and two glass pipes.
Assisting at the scene were Sgt. Richie Reynolds, Sgt. Eric Wilkerson, K-9 Ofc. Greg Turner, Ofc. Drew Wilson, and Ofc. Ashley Wampler.
Kirby and Hooker were arrested and charged with second-degree criminal mischief, first-degree trafficking in a controlled substance greater than or equal to two grams of methamphetamine, theft by unlawful taking of contents from vehicle of $500 or more but under $10,000, two counts of theft by unlawful taking of contents from a vehicle under $500, buying or possessing drug paraphernalia. A warrant was also served on Kirby regarding a parole violation. Both were lodged in the Laurel County Detention Center.