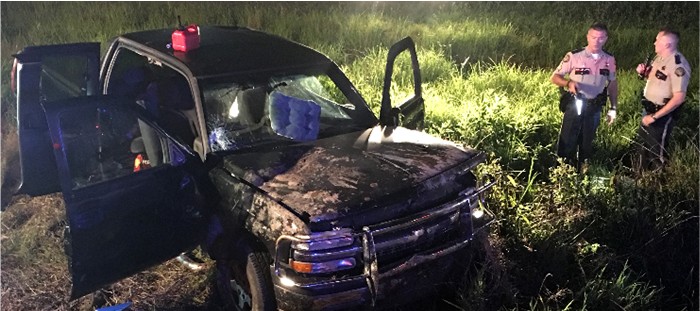 Laurel County, KY - Sheriff John Root is reporting that: Deputy Tommy Houston along with Sgt. Larry Parrott and Deputy Charlie Johnson were dispatched to investigate a serious injury traffic crash which occurred on Johnson Road (Ky 472) at the intersection of Old Way Road, approximately 4 miles east of London on Sunday night July 17, 2016 at approximately 9:51 PM.
Upon arrival at the scene, deputies at the scene requested Accident Reconstructionist Detective Sgt. Chris Edwards with London Police Department to assist at the scene.
Investigating officers report that apparently a pickup truck had left the roadway, traveled approximately 25 feet down an embankment striking a culvert and ejecting one of the two occupants out the driver's side window. That individual has been identified as Terry Riley. A female occupant has not yet been identified.
The two occupants were airlifted to UK Med Center in Lexington for treatment of serious injuries. If anyone has any information as to who the female occupant is, they are asked to contact the sheriff's office at 606-864-6600.
Also assisting at the scene of the crash was Deputy Daniel Grigsby, CSO Brandon McCoy, Ambulance Inc. of Laurel County, and London Laurel Rescue Squad.
Investigation is continuing.