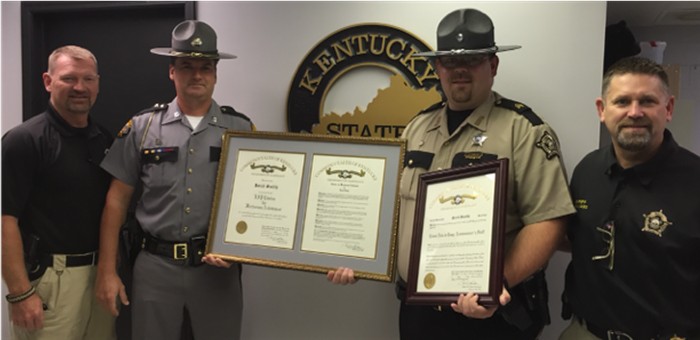 Harlan, Ky . On August 3, 2016 Kentucky State Police Captain P.J. Burnett presented Deputy Jared Smith from the Bell county Sheriff's Department with an award for Citation for Meritorious Achievement at Post 10 Harlan.
On January 14, 2015 the Bell County Sheriff's office contacted KSP Post 10 Harlan requesting canine assistance in locating two individuals who had fled from deputies on foot after a vehicle pursuit in the Frakes community of Bell County. Trooper First Class Dallas Eubanks responded to the scene and deployed canine Rex to track the individuals. After an 800-yard track, a female suspect was located hiding in a briar thicket and taken into custody.
Bell County Sheriff's Deputy Jared Smith assisted TFC. Eubanks and the canine Rex in the search for the other suspect, who was located one-and-a-half miles away trapped and partially submerged in a swampy area. Deputy Jared Smith and TFC. Eubanks pulled the suspect to safety an arranged for his transportation to a medical facility for treatment of hypothermia.
Deputy Jared Smith assisted TFC. Eubanks in taking direct, immediate and positive action to preserve the life of a person who was in real and imminent danger of dying.
Deputy Smith preformed an extraordinary act of service and did so voluntarily and at great personal risk to his safety.