LONDON KY—On Friday, August 12th at 10:22am London-Laurel County Dispatch notified the London Police Department of an Ultralight plane crash near the London-Corbin Airport.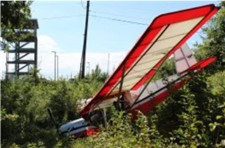 Everett P. Hathorn, 79, of London received injuries during the crash and was airlifted to the University of Kentucky Medical Center.
Witnesses from the Kentucky National Guard Joint Readiness Center stated that the plane attempted to land and bounced heading towards the Center. The plane then lifted upwards to avoid contact, clipped trees behind the Center, avoiding power lines, and turned right to land in a field. Once the plane crashed into the field, Kentucky State Police and Army National Guard members located within the Center, as well as PHI personnel responded to the scene to retrieve Hathorn.
Hathorn was then airlifted to the UK Medical Center. The London Police Department, London City Fire Department, London-Laurel Co. Rescue Squad, Laurel Co. Emergency Management, and London-Corbin Airport manager Larry Corum responded to the scene.
The London Police Department is investigating the incident and the Federal Aviation Administration will be continuing the investigation.