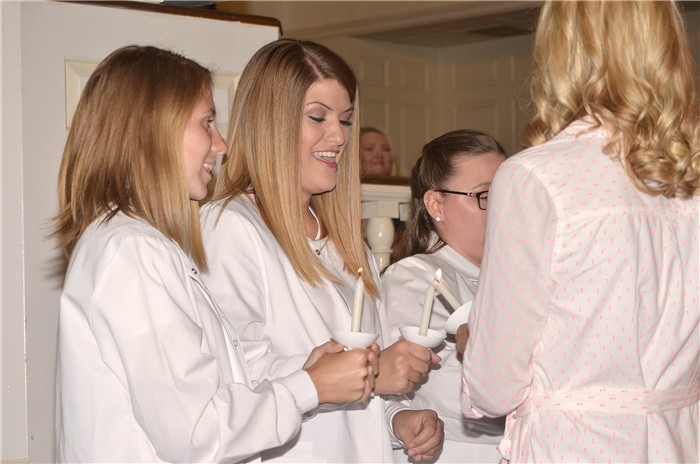 Union College nursing students Kari Baker and Abi Carnes have ceremonial candles lit by recent nursing graduate Kelli Hensley during a pre-licensure class induction ceremony into the Edna Jenkins Mann School of Nursing. Baker and Carnes are on pace to graduate in 2018 from Union's four-year nursing program.

Union College's newest nursing class was honored recently during a white coat ceremony commemorating the students' induction into the Edna Jenkins Mann School of Nursing.
Dr. Marisa Greer, Dean of Nursing, welcomed 18 new students into Union's Bachelor of Science in Nursing program with the ceremony. Students have completed the core portion of their undergraduate curriculum and will now focus on upper level courses, which for the nursing students includes clinical experience at Union's partner facilities. During the ceremony, Dr. Greer gave each student a white nursing coat recognizing their introduction to the traditions and practice of nursing.
"They are moving ahead into something they have worked so hard for, but when they are done, they will have the tools they need to make a difference," Dr. Greer said.
Dr. Marcia Hawkins, Union College President, opened the fall ceremony recognizing the hard work of Union's nursing students and the commitment to meet the challenges of the program as well as the career.
"Many of those that you will see in this field may not remember your name, but they will always remember how you made them feel," said President Hawkins.
Dr. David Johns, Union's Vice-President for Academic Affairs, provided the nursing students with a keynote address during a ceremony, highlighting the journey the 18 students now find themselves on. Dr. Johns said the path they are traveling is well defined, but the students will soon discover another part of the journey not so predictable.
"Being a nurse requires that you not only provide care, but that you care," Dr. Johns said. "This journey places you alongside your human family in their greatest time of need. For you, there is not greater place to be."
While the focus of this white coat ceremony was on the Class of 2018, Dr. Greer also took the time to recognize Union's Class of 2016 nursing class. Those students, some of which attended this ceremony, are the first graduates from the four-year pre-licensure program. Dr. Greer noted the class had a 100 percent pass rate and a 100 percent employment rate.