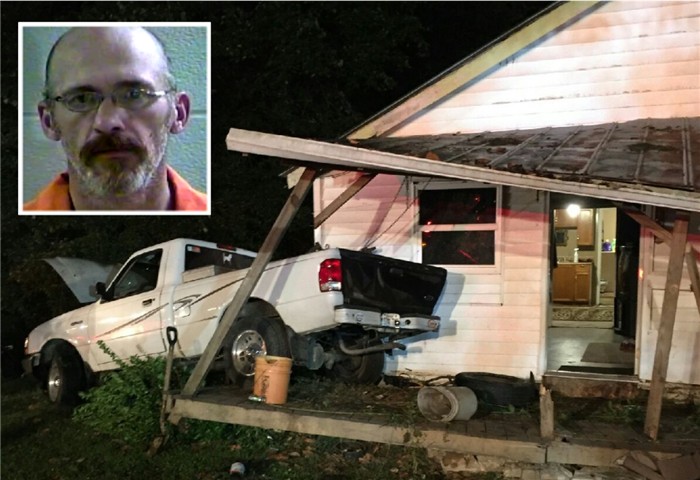 Laurel County, KY - Sheriff John Root is reporting that: Sgt. Larry Parrott along with Deputy Shannon Jones and Detective James Sizemore arrested a Clay County resident early Tuesday morning October 4, 2016 at approximately 12:28 AM.
Arrested was:
Israel Miller age 43 of Vista Road, Manchester, KY.
The arrest occurred on Tom Trail, approximately 5 miles east of London after deputies were dispatched to a single vehicle non injury traffic crash that occurred there.
When deputies arrived at the scene they learned that a white colored Ford F150 pickup had apparently been traveling eastbound on Tomcat Trail when the vehicle left the roadway on the right side of the road, traveled over an embankment approximately 100 feet and struck a house before coming to final rest position. Two persons were present inside the residence and the pickup truck missed them by approximately 3 feet.
Deputies observed a male subject sitting on the front porch upon their arrival who stated that he was not driving and was asleep when the crash occurred. However witnesses at the scene stated he was in the driver seat and was seen exiting the vehicle.
Deputies determined through investigation that this subject was under the influence and was in fact the driver. In addition, this subject apparently tried to hide a set of scales and methamphetamine prior to deputies arrival at the scene, however deputies located them near by. This subject was also determined to be a parole violator.
Israel Miller was charged with operating a motor vehicle under the influence – third offense; driving on DUI suspended license – third offense; 2 counts of wanton endangerment – first-degree; reckless driving; trafficking in a controlled substance – first-degree – first offense – methamphetamine; possession of drug paraphernalia; and tampering with physical evidence.
This subject was also charged on a Kentucky parole violation warrant charging absconding parole supervision and failure to report to parole officer as directed regarding a conviction in Laurel Circuit Court for flagrant nonsupport.
Israel Miller was lodged in the Laurel County Detention Center.
Assisting at the scene of the crash was Ambulance Inc. of Laurel County and Bush Volunteer Fire Department.
Inset photo of accused is courtesy of the Laurel County Detention Center.