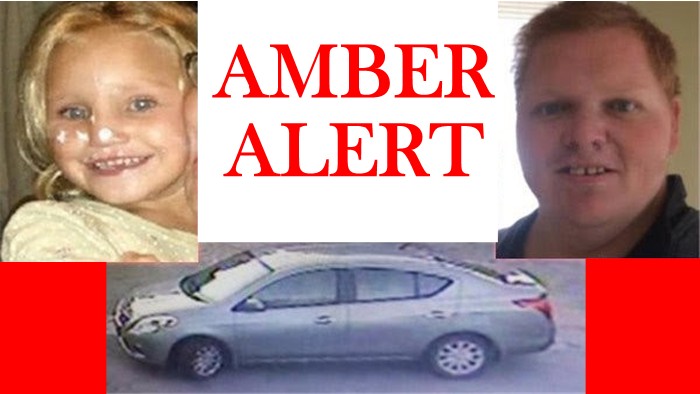 Laurel County, KY - Sheriff John Root is reporting that: the suspect vehicle in an Amber alert out of Forida may have been spotted by a motorist at exit 25 along I – 75 in northern Whitley County at approximately 11:00 AM this morning.
Deputies in Laurel County are observing for this suspect vehicle described as: A 2012 silver, four-door Nissan Versa with an Alabama handicap license plate marked 4JL26.
If anyone in this area observes this vehicle they are asked to contact the Laurel County Sheriff's office at 911.
Background information
An Amber Alert was issued Saturday for 4-year-old Rebecca Lewis. She is missing from Lakeland, Fla., and she has been seen in the company of a man driving a car with an Alabama license plate. The car was reported as stolen out of Alabama, according to authorities. The Florida Amber Alert was extended to Alabama by the Alabama Law Enforcement Association, as well as in Georgia by officials there.
Authorities say they have reason to believe the child is in extreme danger. Rebecca is described as white, 3 feet tall, weighing 30 pounds, with blonde hair and blue eyes. She was reported missing from the 6200 block of Highway 98 North in Lakeland. According to Florida officials, she is in the company of 31-year-old West Hogs. The pair was spotted Saturday at about 6:30 p.m. at a gas station in Forsythe, Ga., just off Interstate 75, according to a Facebook post by the Polk County Sheriff's Office in Florida. In security camera images, she and Hogs are seen holding hands while exiting a restroom.
The girl is wearing a pink dress in the photos, and Hogs is wearing a light-colored t-shirt and jeans. The child appears in the photos to be in good health, the Polk County agency stated. Their direction of travel is unknown, "except that they were obviously driving north from Florida," the Polk County posting stated.
According to local media in Atlanta, officials said that Hogs and the child may be heading toward Alabama. The Amber Alert describes Hogs has having an "L" shaped scar on the left side of his head and a tattoo of a blue cross and another tattoo of a Chinese symbol. Hog is further described as white, 5-foot-8, and weighing 220 pounds.
Hogs may be traveling with the child in a 2012 silver, four-door Nissan Versa with an Alabama handicap license plate marked 4JL26, according to the Amber Alert.
A telephone tips hotline has been set up for tips regarding the whereabouts of Rebecca and Hogs. It is 1-877-419-0934, according to the Polk County Sheriff's Office.
Anyone with information on the whereabouts of the child or Hogs can also contact the Polk County Sheriff's Office at (863) 298-6200 or ALEA at 1-800-228-7688 or simply call 911.
Florida officials say the latest information about the Amber Alert will be kept current at this website: http://www.missingkids.com/poster/AMBER/12093/9500/screen