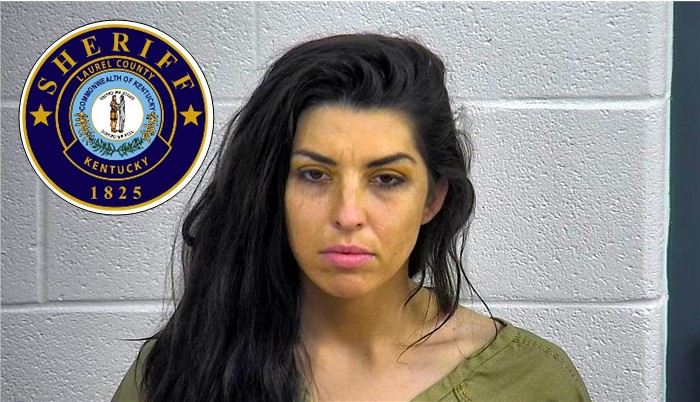 LONDON, KY (September 24, 2021) - Laurel County Sheriff John Root is reporting that: Laurel Sheriff's K-9/shift Sgt. Gary Mehler arrested Lillian B. Huff age 29 of Keavy on Thursday afternoon September 23, 2021 at approximately 2:30 PM.
The arrest occurred off Paris Karr Road, approximately 10 miles South of London following an investigation conducted by the Laurel County Sheriff's office regarding an earlier report of a shooting that had allegedly occurred at a residence belonging to Lillian Huff there.
When deputies arrived at the scene no one could the found, however, a large amount of blood was found at the scene.
Deputies made numerous attempts at that residence in an attempt to locate any individual(s) possibly involved in a shooting there or with information about the shooting.
Following an extensive investigation deputies were finally able to locate Lillian Huff at the residence.
Information was learned that there had been a shooting and that a male subject had been grazed by a shot fired from a pistol.
Sheriff's detectives continue to investigate that assault case.
Lillian Huff was determined to be under the influence and was found in possession of suspected Fentanyl.
Lillian B. Huff was charged with:
PUBLIC INTOXICATION-CONTROLL SUB(EXCLUDES ALCOHOL)
POSS CONT SUB 1ST DEG 1ST OFF (OPIATES)
This individual was lodged in the Laurel County Correctional Center.
Photo of accused attached is courtesy of the Laurel County Correctional Center.
Sheriff's investigators involved in the arrest and also those involved in the continuing investigation into the shooting include: Laurel Sheriff's Detective Richard Dalrymple, Detective Taylor McDaniel, K-9-Deputy Jake Miller, Deputy Travis Napier, Detective Allen Turner, and Deputy Greg Poynter.