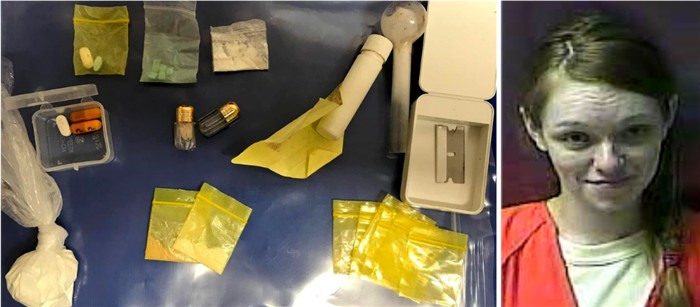 MADISON COUNTY, KY - The Madison County Sheriff's Department is reporting that: On Saturday, April 2nd, 2022 at approximately 2:10 A.M., Deputy Foster initiated a traffic stop on Irvine Road for traffic violations.
While on scene, Deputy Hamilton deployed K9 Tango to conduct a free air sniff.
As a result, K9 Tango gave a conditioned response to the odor of Narcotics.
The passenger, Ms. Cricket Wagoner age 28 of Richmond, KY was arrested due to the course of the investigation at the traffic stop scene, subsequent search of the vehicle and further investigation at the Madison County Detention Center.
Cricket Wagoner was charged with:
POSS CONT SUB 1ST DEG 1ST OFF (DRUG UNSPECIFIED)
DRUG PARAPHERNALIA - BUY/POSSESS
PRESCRIPTION CONT SUB NOT PROPER CONTAIN 1ST OFF
PROMOTING CONTRABAND - 1ST DEGREE
TAMPERING WITH PHYSICAL EVIDENCE
TRAFF IN CONTROLLED SUBSTANCE 1ST OFFENSE (HEROIN)
POSS CONT SUB, 3RD DEGREE - DRUG UNSPECIFIED
This individual was lodged in the Madison County Detention Center and according to JailTracker records remains housed in the facility with no bond or court date having been set as of 11:10 P.M. on Saturday, April 9, 2022.
Photo of the accused courtesy of the Madison County Detention Center.
Photo of seized contraband form the Madison County Sheriff's Department.