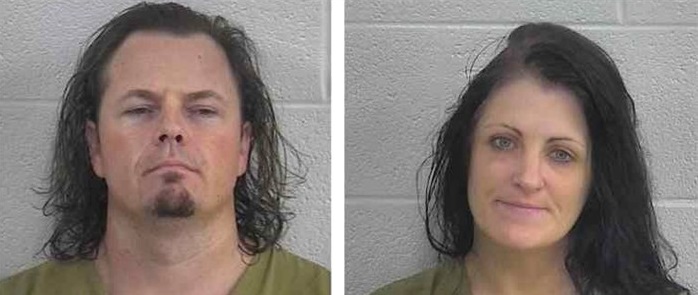 LONDON, KY - Laurel County Sheriff John Root is reporting that: As a result of two individuals being arrested By the Laurel County Sheriff's Office drug interdiction unit, and Detective Sgt. Richard Dalrymple and Detective Bryon Lawson, a 9mm Smith & Wesson pistol has been determined to be a stolen firearm.
The gun was released to the Laurel County victim on Wednesday, April 20, 2022. The weapon was determined to be stolen after the Laurel County Sheriff's office posted a press release regarding a traffic stop on a blue Nissan on U.S. 25 approximately 4 miles South of London on April 12.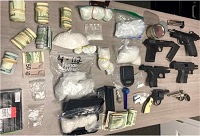 During the probable cause search the two occupants of the vehicle were found in possession of over 2 pounds of Methamphetamine, six firearms and a large amount of U.S. currency.
The Sheriff's office arrested Michael Christopher Berry age 40 of Rineyville, KY and Amara Paige Creech age 34 of Highland, Illinois charging them with:
Trafficking Methamphetamine
The Sheriff's office posted the press release along with a picture of the recovered firearms that were recovered.
The victim of the stolen firearm contacted the Sheriff's office stating that he had saw the picture on the Sheriff's office Facebook page of the weapons recovered and that he believed a 9 MM Smith & Wesson pictured was his weapon and that he had bought it at Center Target in London.
The victim further stated that the weapon had been in his vehicle when he parked it at the lake where it (the weapon) was apparently stolen on April 9. He also stated that he had not noticed the weapon being missing for several days.
Laurel Sheriff's Detective Sgt. Richard Dalrymple conducted an investigation, contacting Center Target and through cooperation with Center Target verified that the victim had purchased the weapon there.
The victim came to the Sheriff's office on Wednesday April 20 and the firearm which was in evidence at the sheriff's office was released to him.
The investigation is continuing.
RELATED: Methamphetamine, Guns & Cash seized from KY-IL Duo during Traffic Stop on U.S. Route 25 in Southeastern Kentucky