LONDON, KY - Laurel County Sheriff John Root is reporting that: Laurel Sheriff's Deputy Tommy Houston along with shift Sgt. Brett Reeves arrested two individuals on Wednesday morning October 19, 2022 at approximately 9:05 AM.
The arrests occurred in a business parking lot off U.S. 25 approximately 6 miles South of London after deputies were dispatched to a disturbance complaint there.
Upon arrival at the scene deputies conducted an investigation and learned that a male and female subject had allegedly been involved in a domestic disagreement there.
During the investigation deputies determined that the female subject, who was determined to be the driver of a blue Nissan Versa was under the influence.
Deputies learned that a male subject involved in the disagreement had allegedly thrown a purse toward the female subject and struck a glass window to the business shattering the glass. Estimated damage to the window was more than $840.
The two arrested individuals were identified as: The vehicle's driver, Jamie Lee Hanna age 42 of Georgetown, Tennessee and a male subject there, Jamie L. Brown age 44 of Maynardville, Tennessee.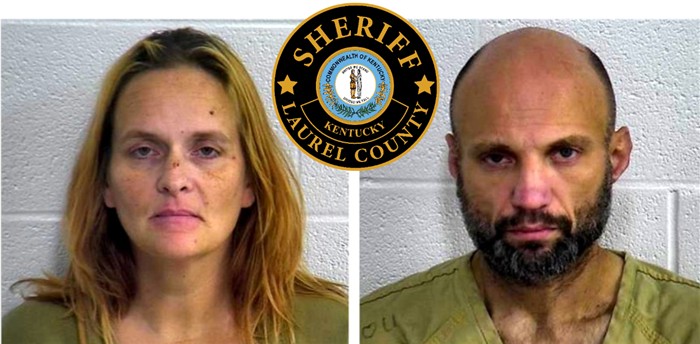 Jamie Lee Hanna and Jamie L. Brown
Jamie Hanna was charged with:
Operating a motor vehicle under the influence – first offense
Prescription controlled substances not in proper container – first offense
Disorderly conduct – second-degree
Jamie Brown was charged with:
Criminal mischief – second-degree
These two individuals were lodged in the Laurel County Correctional Center.
Photos of the accused are courtesy of Laurel County Correctional Center.