PINEVILLE, KY (April 5, 2023) - The Bell County Sheriff's Department is reporting that on Tuesday, April 4, 2023, Bell County Sgt. Frank Foster was on routine patrol on Highway 119 just outside of Pineville when he saw a man on an ATV traveling on the shoulder of the roadway.
Sgt. Foster recognized the subject on the ATV as 47-year-old Ricky G. Adkins, an individual known to have warrants for his arrest and turned around attempting to make a traffic stop on Adkins who traveled on the roadway for over a mile before turning off on Old Bell High Road at a high rate of speed.
As he fled from deputies he tried to stop abruptly and cause the deputies to strike him or swerve into oncoming traffic.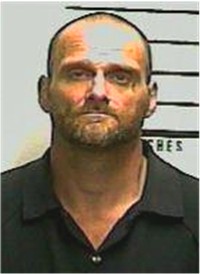 Adkins continued to speed down the roadway turning into the former Bell County bus garage parking lot getting stuck between a fence and a building. Adkins then jumped from the ATV and fled on foot for a short distance then jumped in the Cumberland River.
After a short period of wading down the river, Adkins gave up and was taken into custody by Sgt. Frank Foster and K-9 Sgt. Adam Southern and transported to the Bell County Detention Center.
Located in the ATV was a syringe.
Ricky Adkins was charged with:
Fleeing or evading police (motor vehicle)
Fleeing or evading police (on foot)
Wanton endangerment - 1st degree police officer
Reckless driving
Buying or possessing drug paraphernalia
Adkins was also served warrants for:
Two (2) two counts of persistent felony offender
Trafficking in controlled substance - 1st degree, 1st offense greater than 2 grams (Methamphetamine)
Trafficking Marijuana (less than 8 oz.) - 1st offense
Failure to appear
This individual was lodged in the Bell County Detention Center
Mugshot of the accused is courtesy of the Bell County Detention Center.
Photo of the arrest is from the Bell County Ky. Sheriff's Department.