MANCHESTER, KY - Chief James Quiet Wolf Sizemore has announced that the 2023 Annual Gathering of the Southeastern Kentucky Saponi Nation of Manchester, KY "Descendants of George All Sizemore 1750-1822" will be held the 4th Weekend in May in Clay County, KY.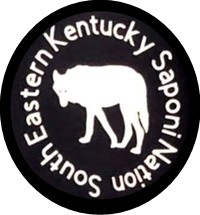 Beginning at 9:00 A.M. this year's fundraising event will take place on Saturday, May 27, and Sunday May 28 at the Ralph Hollin Farm on Highway 638 "Green Briar Road" about 2 Miles out of Manchester, KY going back towards London.
From the Hal Rogers Parkway, go north on U.S. 421 through Manchester and at last light (Burger King) turn left on Highway 638.
Tribal Members and Descendents of George All Sizemore 1750-1822 and Agnes "Aggy " Shepherd and their Families are Welcome to attend!
EVENTS:
Tomahawk throwing
Possible Contests (Info on Contests will be announced at Gathering time)
Handmade Crafts will be displayed by various artists
Pot Luck Dinner, with drinks, deserts etc...
Entertainment by various musicians
Everyone is asked to bring something for the Table to help with the Tribal Fundraiser.
All Donations are greatly appreciated and will go toward Tribal Business Expenses.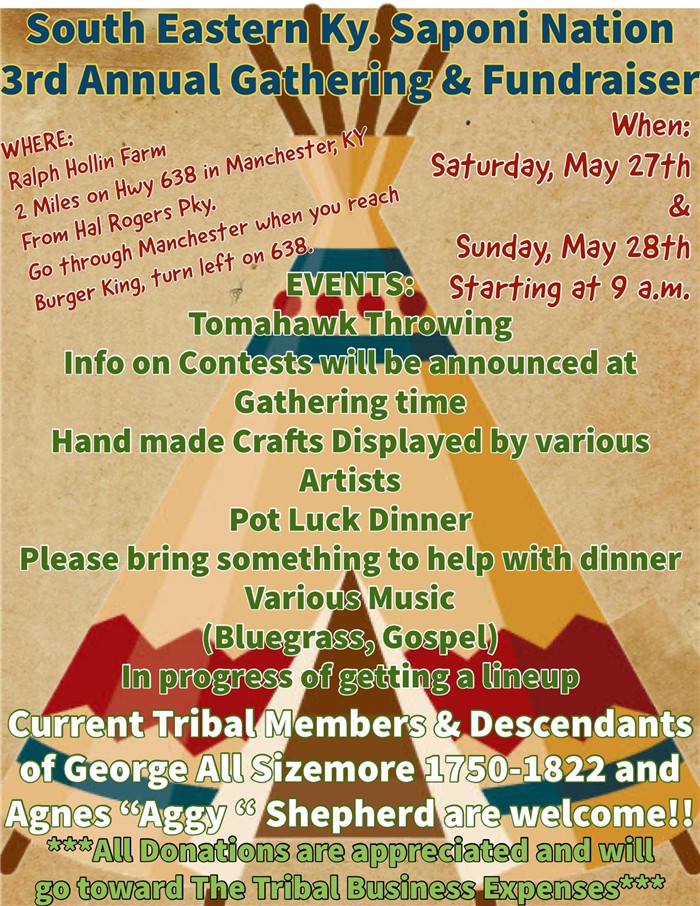 RELATED LINKS BELOW
SOUTHEASTERN KENTUCKY SAPONI NATION 3RD ANNUAL GATHERING SET FOR JUNE IN CLAY COUNTY
Annual 2021 Gathering of the Southeastern Kentucky Saponi Nation to be Held in Clay County, Kentucky