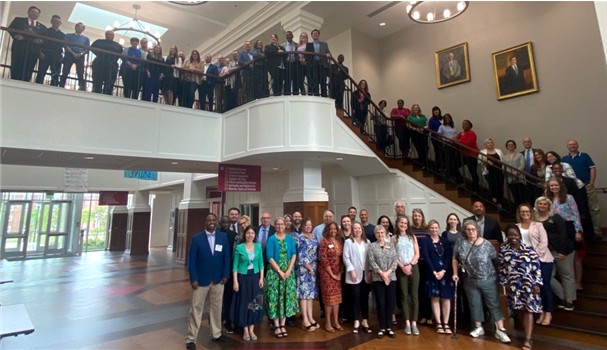 Members of the 2023 Academic Leadership Academy cohort at Transylvania University
FRANKFORT, KY -- The Kentucky Council on Postsecondary Education is pleased to announce that 65 faculty and staff representing 18 colleges and universities are participating in Bluegrass Tomorrow's Academic Leadership Academy (ALA).
ALA fellows will receive professional development training and mentoring by institutional leadership from throughout the state to prepare them for career paths in higher education. Campuses nominated participants based on their talents and demonstrated leadership abilities.
ALA is a project of CPE and the Bluegrass Higher Education Consortium, a partnership of 12 colleges and universities in the Central Kentucky region managed by Bluegrass Tomorrow. The academy was expanded statewide in 2019 to provide an affordable career development opportunity focused on the state's education challenges and successes.
"CPE is very excited to partner with Bluegrass Tomorrow in this effort," said Melissa Bell, CPE's vice president of academic affairs and student success. "The program is highly respected throughout the state and focused on strengthening the leadership of Kentucky's postsecondary institutions."
The 2023 participants are below.
For more information about the Bluegrass Higher Education Consortium and the academy, visit bluegrasstomorrow.org/bluegrass-higher-education-consortium-2/.
Asbury University
Berea College

Mary Robert Garrett
Xiantang Hong
Nicholas Daniel Hartlep

Bluegrass Community and Technical College

Hunter Chandler
Ethan Coats
Hannah Green
Sheldon Sharpe

Campbellsville University

Elijah Coffey
Kevin Propes

Centre College

Sarah Murray
Ethan Gilliiam
Meredith Bruner
Maria Apostolova-Mihaylova
Barbara Hayes

Eastern Kentucky University

Charles Hughes
Laurel Schwartz
James Blair
Nedim Slijepcevic

Georgetown College

Emily McCarthy
Bryan Langlands

Jefferson Community and Technical College

Jessica Duff Lord
Lisa Eichholtz
Betsy Langness
Amanda Miller
Jessica Newman
Jessica Zimlich

Kentucky State University

Frederick Williams
La'Quida Smith
TaKeia Anthony
Phillip Clay Jr.
Tierra Freeman Taylor

Midway University
Morehead State University

Kenneth Andies
Jon Musgrave
Kimberlee Sharp

Murray State University

Donald Adongo
Samir Patel
Summer Cross
Kristin Reid

Northern Kentucky University

Kristin Hornsby
David Childs
Charlisa Daniels
Sarah Conwell
Amanda Andrews

Owensboro Community and Technical College
Southcentral Community and Technical College

Tonya Lanphier
Charles David Jones
Renee White

Sullivan University

Erin Snyder
Kristi Turpin

Transylvania University
University of Kentucky

Jake Higgins
Kay Shenoy
Nathan Vanderford
Lisa Enright
Akinbode Adedegi
Jessica Burris
D'lorah Hughes
Mehdi Khosravi

University of Louisville

Krista Ackermann Young
Cara Cashon
Michael Menze
Danna Williams
Patriece Campbell-Palmer
###
The Council on Postsecondary Education is leading transformation in our workforce, economy and quality of life by advancing progress in educational attainment across Kentucky. As the state's higher education coordinating agency, we champion high-quality, inclusive and affordable postsecondary opportunities that prepare students for civic engagement and sustainable careers. That's why we are undertaking the 60x30 goal, an ambitious effort to raise the percentage of working-age Kentuckians with a postsecondary degree or certificate to 60% by the year 2030. At CPE, we believe that higher education matters – for everyone.