Grants to support nonprofits providing vital health services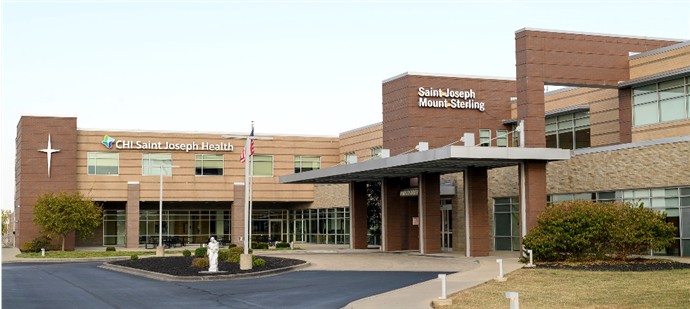 MOUNT STERLING, KY – Saint Joseph Mount Sterling has opened applications for local nonprofit organizations to apply for grants to support vital services that will improve the well-being and health equity of the Mount Sterling area. The application period is open now through Friday, Sept. 8, 2023.
The grant program is open to nonprofit organizations that address the following priorities – substance use disorders, mental health and mental disorders, and weight status, physical activity and nutrition – through projects planned for the next calendar year. The priorities were identified in Saint Joseph Mount Sterling's most recent community health needs assessment, which is conducted every three years to help the hospital and community partners identify and address priority health and social needs faced by residents and the region.
"One of our core values is collaboration, and we are excited to work with local nonprofit organizations to address the health needs specific to those communities," said Anthony Houston, Ed.D., FACHE, CEO, CHI Saint Joseph Health. "At CHI Saint Joseph Health, we are dedicated to building healthier communities and know that we are stronger by work with local partners to ensure everyone has access to quality care in the areas we serve. With these grants, we can continue supporting these efforts while supporting the incredible mission of local nonprofit organizations."
Organizations selected for the grants will be announced in November 2023 for projects conducted between January and December 2024. This opportunity is part of the CommonSpirit Health Community Health Improvement Grants program. Saint Joseph Mount Sterling is part of CommonSpirit Health, created in 2019 when Catholic Health Initiatives and Dignity Health came together to create a national health system.
"We strive to be intentional and strategic in our community outreach, partnerships and philanthropic giving," said Michael Bilton, system senior director for community health and community benefit, CommonSpirit Health. "It is important for our hospitals to use their resources in ways that help improve high-priority, locally relevant health issues. These grants are one example of that."
Bilton also addressed the value of working with community organizations, stating, "The grant program reflects a commitment to partnering with the communities we serve and to stimulating collaboration among others. Grant applications must include collaborating partner organizations helping to deliver services, and not be solely about one agency's work."
Interested organizations can learn more about the grant program, including eligibility criteria, how to apply, and a local contact for questions by visiting https://www.commonspirit.org/communitygrants.
About CHI Saint Joseph Health
CHI Saint Joseph Health, part of CommonSpirit Health, is one of the largest and most comprehensive health systems in the Commonwealth of Kentucky with 100 locations in 20 counties, including hospitals, physician groups, clinics, primary care centers, specialty institutes, home health agencies and an ambulatory Care Center. The hospitals in CHI Saint Joseph Health are Flaget Memorial Hospital, Saint Joseph Berea, Saint Joseph East, Saint Joseph Hospital, Saint Joseph Jessamine, Saint Joseph London, Saint Joseph Mount Sterling, and Women's Hospital at Saint Joseph East. In total, the health system serves patients in 35 counties statewide. CHI Saint Joseph Health is dedicated to providing a wide array of services toward a goal of building a healthier future for all. CHI Saint Joseph Health embodies a strong mission and faith-based heritage and works through local partnerships to expand access to care in the communities it serves.
About Saint Joseph Mount Sterling
Saint Joseph Mount Sterling is a 42-bed community hospital located in Mount Sterling, Kentucky. Established in 1918, the facility serves residents of Montgomery, Bath, Menifee, Powell and Rowan counties. An investment of $60 million opened the current facility in 2011.
###