(FRANKFORT, Ky.) – The Kentucky State Police (KSP) is calling all fifth grade students to compete in the National Missing Children's Day Poster Contest sponsored by the Department of Justice (DOJ) in Washington, DC. KSP will select one nominee from Kentucky to participate in the national level competition.
Winning 2013 Artwork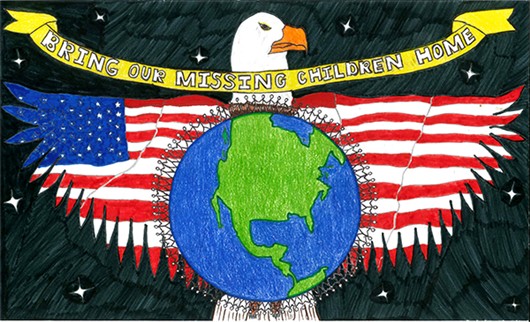 The winner of Kentucky's 2013 contest was Cooper Terry from H.W. Wilkey Elementary School in Leitchfield
The Kentucky nominee will receive an Award of Excellence from KSP and their poster will be prominently displayed at the Kentucky State Fair in KSP's Safety Town Exhibit.
Using the theme "Bringing Our Missing Children Home," the contest highlights America's united goal to bring missing children home safety. It provides teachers and parents with tools to educate children about safety and the prevention of child abductions.
The winner of the national contest will be determined in late April and will receive a U.S. Savings Bond and a free trip to Washington, DC to participate in the National Missing Children's Day ceremony, to be held on or around May 21, 2014. The ceremony will be a time to recognize people who work to bring missing children home safety and remember the children who remain missing.
"This is a great opportunity for Kentucky fifth grade students to participate in a national effort that promotes a child safety educational program," says Sgt. Michael Webb, commander of the KSP Public Affairs Branch, where posters from the Commonwealth will be judged.
"The poster contest and the educational activities that accompany it are designed to bring awareness to the number of children who go missing each year and serve as a reminder to both parents and students regarding the need to be aware of potential danger."
Kentucky fifth graders can enter the contest by submitting their posters to KSP Headquarters. KSP must receive entries by February 18, 2014 for consideration. A judging panel will choose a state winner and their entry will be forwarded to DOJ where the national winner will be selected.
Kentucky entries and completed applications should be mailed to:
Kentucky State Police Headquarters
c/o Public Affairs Branch
919 Versailles Road
Frankfort, KY 40601
KSP contest guidelines and information are available at
http://www.kentuckystatepolice.org/2014/bring_our_missing.htm.
For more information, contact the Public Affairs Branch at 502-782-1780.