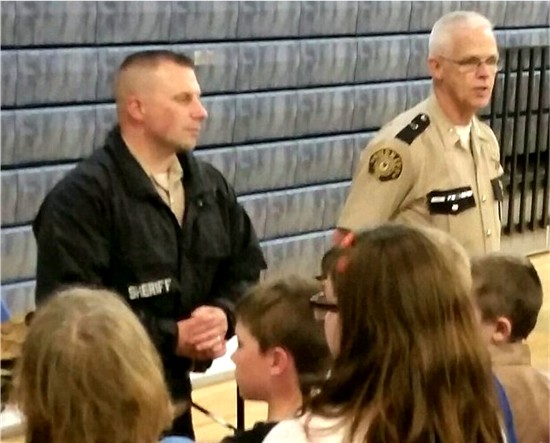 Laurel County, Ky - Sheriff John Root is reporting that Deputy John Inman along with Deputy Gilbert Acciardo participated in a Career Day event at Keavy Elementary School on Friday morning April 3rd, 2015.
Deputies provided an exhibit with pictures of the many services that the Laurel County Sheriff's Office provide.
In addition, deputies presented a short informal talk with the students. Deputy Inman, who is a member of the sheriff's office SRT (Special Response Team) demonstrated the equipment vest worn by team members.
The deputies enjoyed their interaction with all the students of Keavy School.
Pictured are students at the sheriff's office informational exhibit.
Pictured on the back row is (Left to Right) Deputy John Inman, and Deputy Gilbert Acciardo.