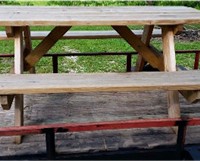 Manchester, Ky. - MPD is reporting that on Monday May 11, 2015 the Manchester Police Department received a complaint of a pull behind trailer being stolen in East Manchester.
Officers Jason Combs and Assistant Chief Patrick Robinson responded.
During this time Officers were notified that items had been taken from the Salt Works Village also.
With the help of Officer Logan Wolfe, the Manchester Police Department determined that both thefts were linked and identified the individuals who took the items.
Anthony Haas age 39 and Jeremy Haas age 25 both of Tyner KY and Jerome Noble age 43 of Booneville, KY were arrested and placed in the Clay County Detention Center.
Due to this case crossing county lines, the Jackson County Sheriff's Office and Jared Smith with the KSP helped tremendously.
The table was recovered in Jackson County and the trailer was recovered in Owsley County.
These items were returned to their owners
Photos, ages, and towns of the accused courtesy of the Clay County Detention Center.
Article source and photo of recovered items: Manchester Police Department