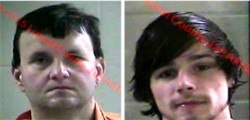 Laurel County, KY - Sheriff John Root is reporting that Deputy Shawn Boroviak arrested two individuals on Wednesday morning July 22, 2015 at approximately 10:17 AM.
The arrest occurred on Kentucky 490, approximately 8 miles north of London after Deputy Boroviak was dispatched to a complaint that an ice machine had been broken into overnight at Marcum's Country Store, 9 miles north of London.
During the investigation, video surveillance was reviewed showing the two individuals breaking into an ice machine outside the store and taking bags of ice valued at $2.50 just after midnight. In addition, the ice machine received damage.
Deputy Boroviak arrested Randy Couch age 42 of Laurel Branch Rd., London charging him with theft by unlawful taking; and criminal mischief – third-degree – this subject stated he did not know why he broke into the ice machine.
Also arrested was Matthew Wombles age 18 of Somerset Rd., London charged with criminal mischief – third-degree.
Both individuals were lodged in the Laurel County Detention Center.
Photos attached are courtesy of the Laurel County Detention Center.