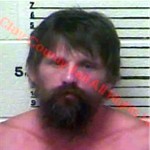 Manchester, Ky. - The Manchester Enterprise is reporting yet another arrest in connection with the investigation of the murder of Trevor Dykes.
They report that the older brother of Roscoe Henson the suspected shooter of Trevor Dykes was arrested Thursday night by the Clay County Sheriff's Office.
Gilbert Henson, age 35 of Manchester has been has been charged with Tampering With Physical Evidence and lodged in the Clay County Detention Center.
News Source: The Manchester Enterprise
Photo courtesy of the Clay County Detention Center.