Laurel County, Ky. - Sheriff John Root is reporting that Deputy Josh Scott is investigating a two vehicle injury traffic crash which occurred on Ky 490, approximately 7 miles north of London on Monday morning August 17, 2015 at approximately 8 AM.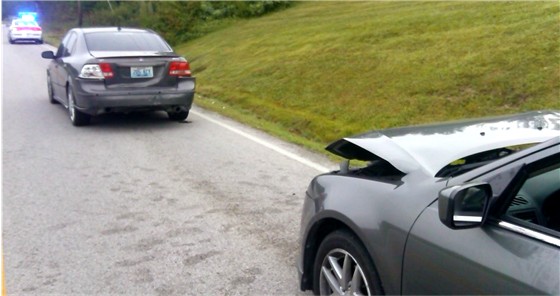 The investigating officer reports that apparently a green colored 2006 Saab 4 door vehicle was northbound on KY 490 attempting to make a left turn onto Jackson Road and was struck in the rear by a gray colored Ford Fusion that was also northbound on KY 490.
The driver and only occupant of the green colored Saab was identified as:
Tory Davis age 22 of London – no injuries reported.
The driver of the gray colored Ford Fusion was identified as:
Ashley Neace age 30 of East Bernstadt – transported to St. Joseph Hospital London by Ambulance Inc. of Laurel County for treatment of possible injuries. An eight-year-old male child was also in the vehicle and reportedly was not injured.
Assisting at the crash site was East Bernstadt Volunteer Fire Department, and Ambulance Inc. of Laurel County.
Photo of the crash site provided the Deputy Josh Scott.