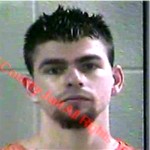 Laurel County, Ky. - Sheriff John Root is reporting that Deputy Kyle Gray along with Deputy Jamie Grimes and Deputy Travis Napier arrested Danny Jones, Jr age 25 of Delbert Hodge Rd., London on Sunday afternoon August 16, 2015 at approximately 4:17 PM.
The arrest occurred at a residence off Delbert Hodge Road, approximately 1 mile north of London after deputies were dispatched to a complaint that a female subject had found a small child outside on her front porch and that the child had been there for an extended period of time crying.
The neighbor had taken the child to her residence and attempted to locate the parents who apparently lived next door but was unable to get anyone to come to the door.
When deputies arrived at the scene and conducted an investigation they learned that the child was approximately 23 months old and only had on a soiled diaper. The child appeared to be very hungry and thirsty and was very dirty.
Deputies went to the residence next door attempting to locate the parents and after knocking on the door for several minutes the father of the child came to the door and reported that he had just woke up. He told deputies that he had a party at his residence the night prior and had several people at his residence drinking alcoholic beverages.
Deputies detected a strong odor of alcoholic beverages on his breath. This subject told deputies that he thought his child was supposed to be with the child's mother but wasn't really sure where the child was located.
Deputies notified social services. Danny Jones, Jr. was charged with endangering the welfare of a minor; public intoxication – controlled substances; possession of drug paraphernalia and was lodged in the Laurel County Detention Center.
Social services released the infant to other family.
Photo attached is courtesy of a Laurel County Detention Center.