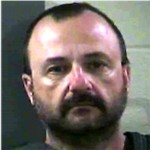 (LONDON, KY.) – On Friday, September 11, 2015, KSP Post 11 Detectives discovered the body of Amber N. Decker, 25, of London in a wooded area off Arrow Wood Drive in Laurel County.
The victim has been the subject of a missing person investigation since Tuesday, September 08, 2015 after family members reported her missing.
Upon further investigation, Joseph M. Nester, 48, of London, the estranged boyfriend of the victim was arrested for the murder after he was located in a hotel room in London.
The exact cause and time of death is pending an autopsy that will be scheduled later.
Nester was lodged in the Laurel County Detention Center.
Detective Justin Oliver is in charge of the investigation and was assisted by Troopers from Post 11 and the Laurel County Coroner's Office.
Photo of accused courtesy of the Laurel County Detention Center.