Laurel County, KY - Sheriff John Root is reporting that Deputy Tommy Houston along with CSO Brandon McCoy arrested Hank Williams, age 20, of Saplin Fork Road, Manchester, early Tuesday morning, September 29, 2015, at approximately 5:17 AM.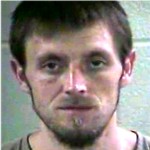 The arrest occurred off of Elisha Feltner Road approximately 10 miles east of London after deputies were dispatched to a complaint of a male subject walking down Elisha Feltner road knocking on the door of residences and announcing himself as Hank Williams stating that he needs a pop and is wanted by the police.
When deputies arrived at the scene and conducted an investigation, they determined that this subject was under the influence.
Hank Williams was charged with public intoxication – controlled substances and was lodged in the Laurel County Detention Center.
Photo attached is courtesy of the Laurel County Detention Center.