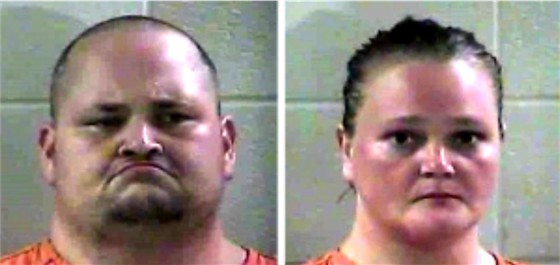 Laurel County, KY - Sheriff John Root is reporting that Deputy Shawn Jackson arrested two individuals on October 12, 2015 at approximately 1:28 AM.
The arrests occurred in London after Deputy Jackson conducted an investigation on a stolen license plate registration decal.
Deputy Jackson received a complaint that two individuals had apparently stolen a license plate registration decal from a vehicle in Laurel County and had placed that decal on their own license plate.
The two individuals allegedly stated they did not have the money to license their vehicle so they took a new registration decal off a vehicle parked in Walmart parking lot in southern Laurel County placing it on their license plate.
Fhe stolen decal was discovered during a traffic stop by Corbin Police Officer Steve Meadors.
Deputy Jackson arrested Joseph Burkhart age 39 and Shawna Burkhart age 37 of East Highway 1223, Corbin charging them with theft of a motor vehicle registration plate and lodging them in the Laurel County Detention Center.
Photos attached are courtesy of the Laurel County Detention Center.