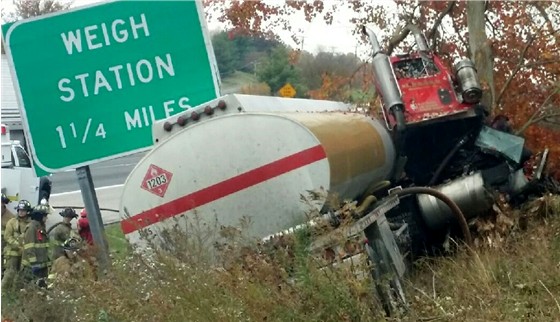 Laurel County, KY - Sheriff John Root is reporting that Deputy Shawn Boroviak along with Deputy Charlie Johnson are investigating a single vehicle fatal traffic crash which occurred on I-75, approximately 2 miles south of London on Saturday morning October 24th 2015 at approximately 11:42 A.M.
The investigating deputies report that apparently a Peterbilt tractor truck pulling an empty tanker was traveling southbound on I-75 when for some unknown reason the vehicle left the roadway on the right shoulder traveling across an earth embankment and struck a road sign coming to rest against a tree.
The driver of the vehicle was identified as Stanley Young age 40 of Booneville, KY.
Stanley Youngreceived fatal injuries and was pronounced dead at the scene.
Assisting at the scene of the crash was London City Police Department, Laurel County Fire Department, London Laurel Rescue Squad, Abby Hale - Laurel County Emergency Management director, Ambulance Inc. of Laurel County, and Ecotech.
Investigation into the cause of the crash is continuing.
Photo attached provided by Deputy Shawn Boroviak .