Laurel County, KY - Sheriff John Root is reporting that Deputy Craig Sutton investigated a single vehicle serious injury traffic crash on KY 490, approximately 5 miles north of London on Wednesday morning, November 18, 2015, at approximately 7:23 A.M.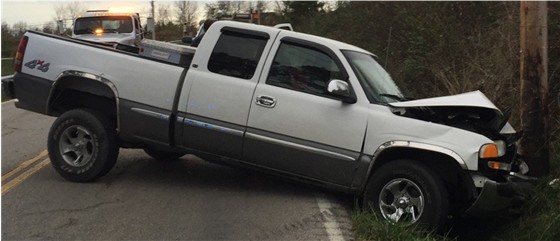 The investigating deputy reports that apparently a 2000 GM Sierra was westbound on Highway 490 when she lost control of the vehicle after her tire dropped off the road and she over corrected losing control and struck a guard rail and a utility pole.
The driver was identified as Beatrice Jones, age 49, of Patton Rd., East Bernstadt, injured and transported by Ambulance Inc. Of Laurel County to St. Joseph Hospital, London for treatment of injuries.
Assisting at the scene of the crash was: Deputy Josh Scott, KSP Arson Investigator Brian Lewis, and East Bernstadt Volunteer Fire Department.
Photo of the crash site provided by Deputy Craig Sutton.