LONDON, KY—On Tuesday, January 5th, 2016, at 9:21 AM, London Police responded to a 9-1-1 Dispatch complaint about possible drug activity nearby the London Shopping Center, and made two arrests related to heroin.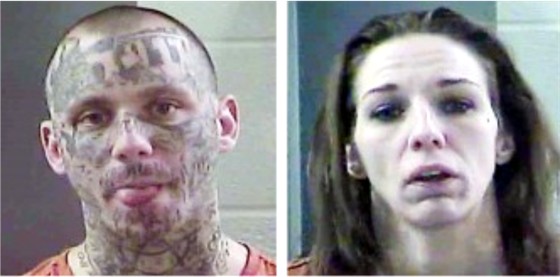 Sgt. Danny Robinson conducted a traffic stop on West Fifth Street on Phillip R. Latimer, 28, and Jennifer L. Jarrell, 35, of Ohio who matched the description provided by Dispatch. Latimer was also operating his vehicle without wearing a seat-belt. With consent, Officers Jordan Hopkins and Jacob Bormann assisted Sgt. Robinson in searching Latimer's vehicle.
Located below the front passenger seat was a black bag. The black bag contained two used syringes, one containing a brown liquid believed to be heroin. Officers also located a glass pipe in the bag and a plastic pen containing residue that had been used as a pipe and a metal spoon with a liquid substance. The substance found within the used syringe field tested positive for heroin.
Latimer was arrested and charged with first degree possession of a controlled substance (heroin) and Jarrell was arrested and charged with buying/possessing drug paraphernalia and first degree possession of a controlled substance (heroin). Both were lodged in the Laurel County Detention Center.