London, KY - Sheriff John Root is reporting that Deputy Kyle Gray arrested two individuals at the Laurel County Judicial Center in London on Thursday afternoon February 11, 2016 at approximately 12:15 PM.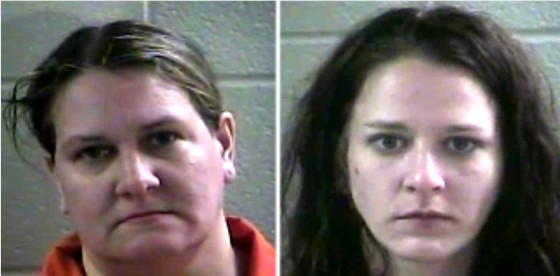 The arrests occurred after Deputy Gray investigated an incident that occurred at the judicial center where allegedly a female subject grabbed her daughter by her hair and pulled her out of the courtroom and made her leave the courthouse.
In addition, the same female subject slammed the door going into the courtroom and hit a 15-year-old female with the door causing minor injuries to her arm and face. The female subject also began yelling and cursing at the juvenile there in the foyer of the courtroom.
The 15-year-old juvenile and the other female subject were both witnesses in the same court case.
Arrested was Carol Ann Gray age 46 of Lower Spring Creek Road, Big Creek, Ky charged with two counts of tampering with a witness, assault fourth degree, and disorderly conduct – second-degree.
Also arrested was a second individual, Daisy Marie Smith age 29 of Chop Bottom Rd., Manchester who was determined to have an outstanding warrant of arrest.
Daisy Marie Smith was charged on an outstanding Leslie County bench warrant of arrest charging failure to appear in court.
Both individuals were lodged in the Laurel County Detention Center.
Deputies assisting on the investigation and arrests included: Bailiff Cody Faulconer, Bailiff Jason Bowden, court security officer Roy Ball, court security officer Brandon McCoy and court security officer Tony Anders.
Photos of accused attached are courtesy of Laurel County Detention Center.